Diwali 2014
---
Oktoberfest 2014 Fun!
[gss name=Oktoberfest2014 options="timeout=4000 carousel-fluid=true" style="width:90%" carousel="fx=carousel" ids="760,759,758,755,756,757,753,754,752,751,750,749,746,747,748,745,744,743,740,741,742,739,738,737,734,735,736,733,732,731,730″]
---
Celebrate YOU! 2014
Celeste is pictured above with her husband, Vinnie Mullally who is also a busy volunteer teaching line dancing at the Cascades and Leesburg Centers.
---
Founders Day Dinner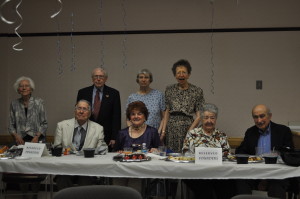 On Tuesday, May 13, 2014 the Loudoun County Senior Center at Cascades honored the original founders of the senior center (pictured above r – l: Glorene Mjoness, Gene Gould, Ray Ehrenbeck, Olga Ricciardi, Joan Ehrenbeck, Dorothy Coffman, Roseanne and Tom Vecchio.) "Mocktails" and appetizers were served along with dinner provided by the Advisory Board at Cascades. Dancing with Sky Dantine (services provided by the Friends of Cascades Senior Center) followed. These individuals and others who have already passed worked diligently to acquire the land and raise money for the development of our center. A consignment shop called Second Hand Rose was run by Olga Ricciardi and many others for several years to raise the funds. This was the very first senior center built in Loudoun County and remains the standard for other senior centers throughout the country. We thank them generously for their hard work and dedication.
---
Spring Fling Fashion Show 2014